ACP is committed to helping you provide outstanding healthcare value and we are still here for you. We are pleased to present a series of live, interactive clinical education webinars.
DECEMBER 2020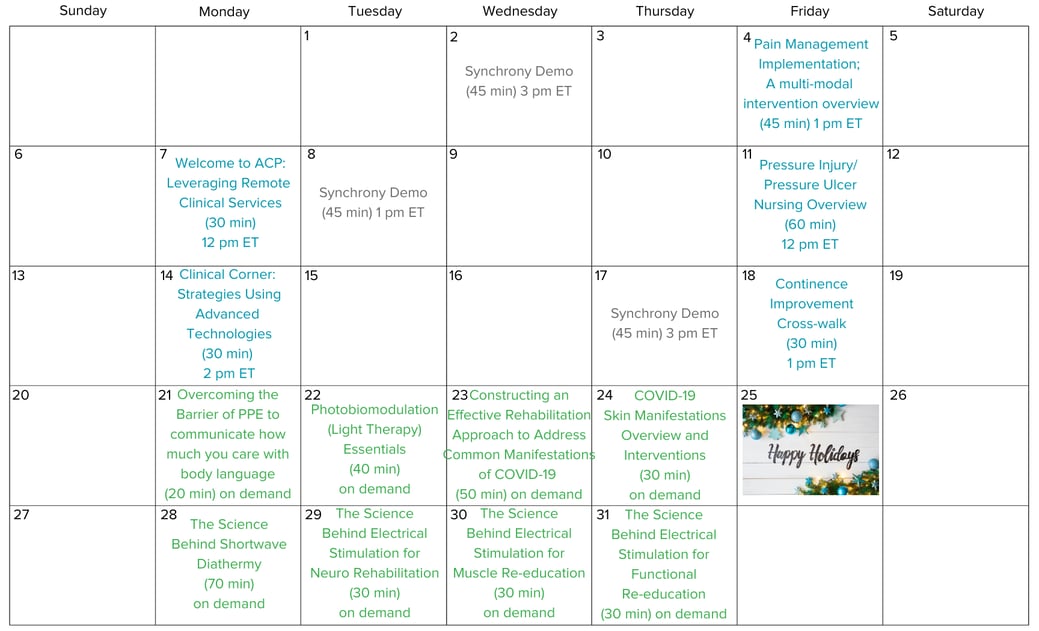 By popular demand, select webinars that were offered live and recorded are now available for viewing on our Clinical Webinar Series Channel.
70 recorded webinars currently available for viewing.
Calendar Details
Synchrony Demonstration (45 min)
Wednesday, December 2 @ 3 pm ET
---
Pain Management Implementation; A multi-modal intervention overview (45 min)
Friday, December 4 @ 1 pm ET
---
Welcome to ACP: Leveraging Remote Clinical Services (30 min)
Monday, December 7 @ 12 pm ET
---
Synchrony Demonstration (45 min)
Tuesday, December 8 @ 1 pm ET
---
Pressure Injury/ Pressure Ulcer Nursing Overview (60 min)
Friday, December 11 @ 12 pm ET
---
Clinical Corner: Balance Strategies Using Advanced Technologies (30 min)
Monday, December 14 @ 2 pm ET
---
Synchrony Demonstration (45 min)
Thursday, December 17 @ 3 pm ET
---
Continence Improvement Cross-walk (30 min)
Friday, December 18 @ 1 pm ET
---
Overcoming the Barrier of PPE to communicate how much you care with body language (20 min)
On demand
---
Photobiomodulation (Light Therapy) Essentials (40 min)
On demand
---
Constructing an Effective Rehabilitation Approach to Address Common Manifestations of COVID-19 (50 min)
On demand
---
COVID-19 Skin Manifestations Overview and Interventions (30 min)
On demand
---
The Science Behind Shortwave Diathermy (70 min)
On demand
---
The Science Behind Electrical Stimulation for Neuro Rehabilitation (30 min)
On demand
---
The Science Behind Electrical Stimulation for Muscle Re-education (30 min)
On demand
---
The Science Behind Electrical Stimulation for Functional Re-education (30 min)
On demand