ACP is committed to helping you provide outstanding healthcare value and we are still here for you. We are pleased to present a series of live, interactive clinical education webinars.
August 2022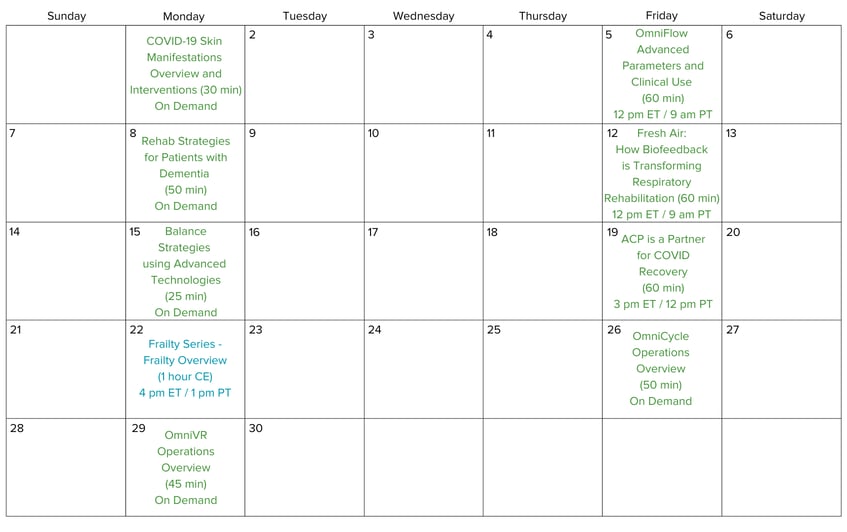 **For Continuing Education courses, individual registration and attendance via unique device are required to qualify for CEUs. This will serve as the learner's attendance record**
By popular demand, select webinars that were offered live and recorded are now available for viewing on our Clinical Webinar Series Channel.
136 recorded webinars currently available for viewing.
Calendar Details
COVID-19 Skin Manifestations Overview and Interventions (30 min)
On Demand
---
OmniFlow Advanced Parameters and Clinical Use (60 min)
Friday, August 5 @ 12 pm ET / 9 am PT
---
Rehab Strategies for Patients with Dementia (50 min)
On Demand
---
Fresh Air: How Biofeedback is Transforming Respiratory Rehabilitation (60 min)
Friday, August 12 @ 12 pm ET / 9 am PT
---
Balance Strategies using Advanced Technologies (25 min)
On Demand
---
ACP is a Partner for COVID Recovery (60 min)
Friday, August 19 @ 3 pm ET / 12 pm PT
---
Frailty Series - Frailty Overview (1 hour CE)
Monday, August 22 @ 4 pm ET / 1 pm PT
---
OmniCycle Operations Overview (50 min)
On Demand
---
OmniVR Operations Overview (45 min)
On Demand